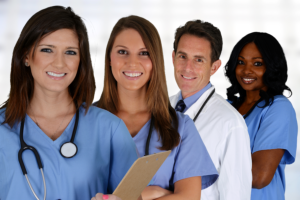 Gerthill Allied Health School offers allied and other health care professional training programs for those aspiring to work in clinical health care professions. The healthcare community plays a vital part in a functioning society. Try as we might to avoid it, there is always a possibility that we will get sick, or that we will need restorative care after a surgery, an injury or an accident. In addition to incidental health care needs, there is a perennial need for senior care or long-term care because aging has always been part of life. Patient care spans all age groups across all walks of life. Healthcare professionals cannot be deducted from society and this is why we do our best to give our students the utmost training possible.
In patient care, the function of nurses and other professionals who come in contact with patients are very specialized. This means that students in this area of study have to adhere to nationally regulated training and strictly established educational criteria to assure their competence in their functions once employed in hospitals, clinics, laboratories and other settings.
At Gerthill Allied Health School, we strive to the fullest to prepare our students to work with doctors and nurses in clinical settings. We teach them to perform essential skills in health monitoring, laboratory functions, phlebotomy and EKG among others. Courses are concluded with the demonstration and review of skills. The competency of the student at the concluding exams will determine their qualifications for career advancement.
Once they complete the course, we endorse them for National Certification testing; while still being under the close guidance of faculty at Gerthill Allied Health School.
Know that in the beginning of your career journey, Gerthill Allied Health School will have your back. Learn from the best! Call 424-329-3030 for more information about our course offerings.